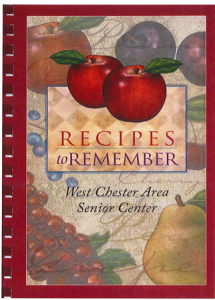 Read about our cookbook in the Daily Local News and get a sample recipe
Recipes to Remember is a compilation of time-tested treasures, containing over 200 recipes for everything from appetizers to desserts.  Each recipe has been faithfully related to the Cookbook Committee by one of our local senior citizens and memorialized on high quality laminate pages, spiral-bound and protected by a durable, stain-resistant cover.  This limited edition cookbook makes a thoughtful gift, and adds a wealth of culinary knowledge to any kitchen shelf.  Best of all, proceeds from the sale of each book go directly to the West Chester Area Senior Center, providing meals, fitness programs, education and so much more to local senior citizens.
Get a copy while they last!  Available at the Senior Center and at Second Reading I and Second Reading II for $10 each.
Please contact us if you'd like to know more about our cookbook!